About the Library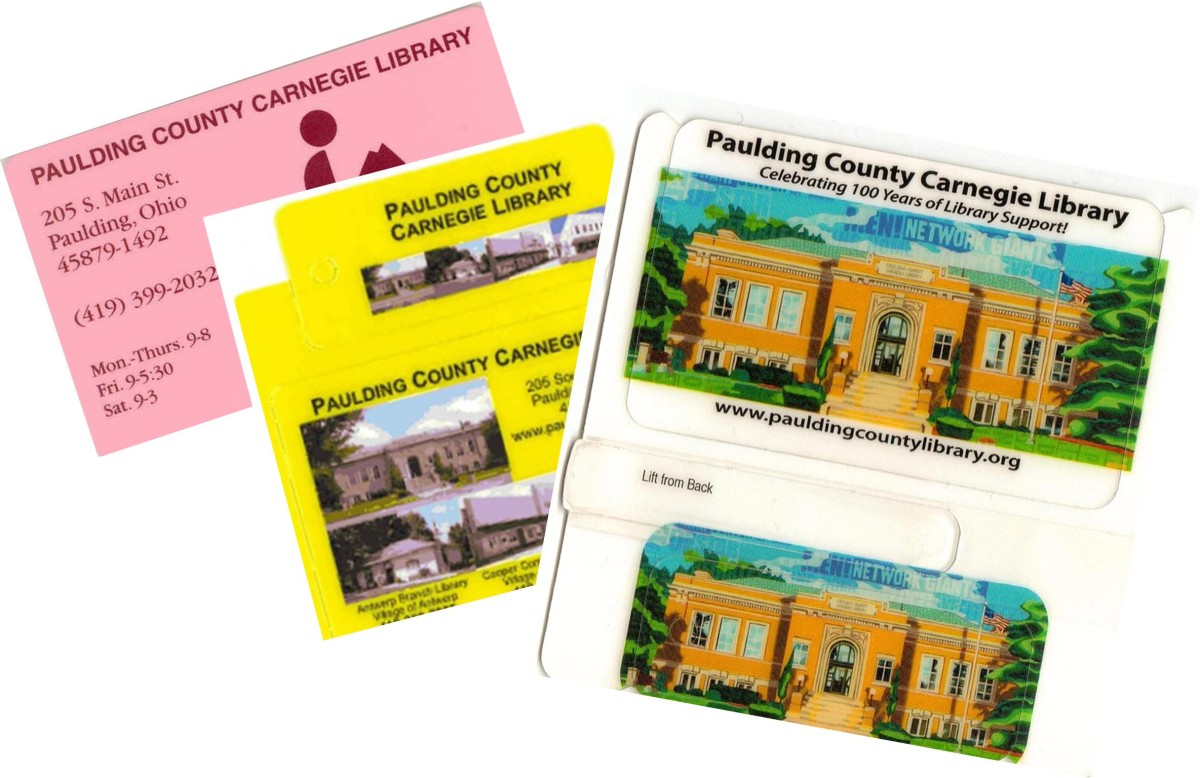 Your Paulding County Carnegie Library Card
The Paulding County Carnegie Library (PCCL) has issued almost 8,000 library cards from 2004-2014. The latest library card features the Jason Borbay (www.borbay.com) painting of the library commissioned in honor of the library's Centennial to be celebrated in 2016.
Any Paulding County or Ohio resident may be issued a library card at no charge. Parents or legal guardians of minor children (under the age of 17) must sign the application for their minor children. The library encourages emerging and early literacy and invites even the youngest child to get their own library card.
The card is accepted at all library locations.
Proof of address will be required to obtain a card (driver's license, lease, utility bill, etc.)
If a patron has an older library card and wants to replace it with the new "Borbay" card, they may be required to pay the standard $1.00 replacement card fee.
Library cards which are defective will be replaced at no charge.
The "pink" and the "yellow" library cars will still work system-wide.
Residents of other states other than Ohio will be charged a yearly one-hundred dollar ($100) fee. This fee may be waived at the discretion of the Library Director for reasons such as the out-of-state resident owns property and pays property tax in Paulding County.
Anyone may use library resources "in-house" without acquiring a library card.
Library computers are to be used by patrons with a valid PCCL Card in good standing.
Visitors may use the library's high-speed computers with Internet access but must still read and abide by the library's Internet Acceptable Use Policy.
Users of the library's Wi-Fi service must still have a valid PCCL card with a PIN.
Patrons must present a valid PCCL card in order to use library computers or borrow library materials, including digital materials downloaded from the Ohio Digital Library and Hoopla Digital Services (beginning in April 2015).
Board of Trustees
Ohio Revised Code: 3375.06 County free public library – appointment of trustees.
In any county in which the board of county commissioners has accepted a gift or bequest pursuant to volume 122, Ohio Laws, page 166, section I at "Sec. 2454," a county free public library shall be established for the use of all of the inhabitants of the county. Such library shall be under the control and management of a board of library trustees consisting of seven members. The trustees shall be qualified electors of the county and shall be appointed by the court of common pleas of the county in which the library is situated. Board members shall serve for a term of six years, but the initial term of the seventh board member may be for the number of years set by the court, not to exceed six years. All vacancies on the board of library trustees shall be filled by the court by appointment for the unexpired term. The members of the board of library trustees shall serve without compensation but shall be reimbursed for their actual and necessary expenses incurred in the performance of their official duties. The board of library trustees shall organize as provided by section 3375.32 of the Revised Code. The board of library trustees shall have the control and management of the county free public library, and in the exercise of the control and management shall be governed by sections 3375.33 to 3375.41 of the Revised Code. This section does not affect the term of any member of a board of library trustees of a county free public library appointed prior to January 1, 2013.
Amended by 129th General Assembly File No.140,SB 321, §1, eff. 1/1/2013.
Board of Trustee Meetings
The Paulding County Board of Trustees meetings are traditionally held on the third Tuesday of the month at 5:30 p.m. in the main library meeting room. However, meeting  times/dates are subject to change. Public notice will be sent to local media and announced on the library website of meeting times. Contact the library for information about upcoming board meetings. All meetings are open to the public. 
Library Team
Main Library
Director: Corey Walker

Fiscal Officer: Bret Mack
Assistant Director/Head of Adult Services: Alice McCauley
IT Manager & Head of Technical Services: Teresa A. Reel
Technical Services Assistant: Jennifer Meyer
Head of Youth Services: Susan Deatrick
Library Clerk & Early Literacy Specialist: Kirk Baker
Library Clerk & Genealogy Specialist: Kelly Taylor
Clerk: Vicki Wilhelm (FT)
Library Clerk & Inter-Library Loan Coordinator & Clerk (PT): Jamy Manson
Maintenance: Bill Childs
Antwerp Branch Library
Branch Manager: Sara Newman
Library Clerk: Stephanie McCullough
Cooper Community Branch Library in Oakwood
Branch Manager: Jamie Clemens
Library Clerk: Laura Woodcox
Library Clerk: Carrie Meyers
Payne Branch Library
Branch Manager: Sara Newman
Library Clerk: Kris Stallkamp
Library Clerk: Tiffany Reeves

Grover Hill Branch Library
Branch Manager: Amanda Jewell
Library Clerk: Tawnya English
Meeting Room
The main historic Carnegie library in Paulding has a small meeting room available for use by the public when not used for library events. Please refer to the rules and application for more information on reserving the meeting room.