William Hall Phipps
Bullet Bio:
Born 

on farm in Sarahsville, Ohio

Attended Elizabethtown College

Taught school

Studied law

Admitted to the Ohio bar in 1889

Moved to Paulding, 1889

Delegate to Republican Conventions, 1892 & 1896

Made over $25,000 as a loan agent for German Building & Loan association (Delphos, Ohio)

Appointed to the office of State Oil Inspector of Ohio in 1908

In 1910 appointed by President Taft to be the Auditor General of the Philippine Islands, resigning in January of 1914

Traveled around the world with childhood friend, Jack Laughlin

Wrote "A Quest from the Wilderness" in 1919 after a voyage around the world

Appointed Secretary of Commerce of the State of Ohio in 1920

Worked with Dr. Neeley in developing new varieties of poppies and peonies
[For moreinformation: History of Paulding, Ohio:  the Men Who Built the Town
1880-1920) by Don H. Price.  Available in closed stacks, Paulding County
Carnegie Library.]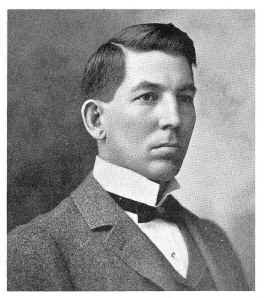 Paulding Attorney was benevolent, wealthy, well-traveled and influential Phipps practiced law in Paulding County
William Hall Phipps was a tall (standing 6'6″), stately, well-dressed man who influenced not only the politics of Paulding County, but also its citizens.
Phipps would pass out unofficial ballots with the names of Republican candidates to minority citizens in Washington Township during annual dinners he sponsored.  Come November, when the ballots were counted, it was found that those citizens voted the way "Bill told them to."
During his stint in the Philippines, Phipps was passionate about the United States helping financially to raise the standard of living and to remain under U.S. jurisdiction. The natives, however, did not see things the same way. Phipps resigned his post in 1914.
Phipps made a fortune in the farm loan business in Paulding County and traveled extensively.  He was a connoisseur of fine art and oriental rugs.  Although he made much money, he spent it quickly.  It was said that he "was the talk of Columbus and was known to change clothes three or four times a day."
He was married to Nora Cooper Phipps who preceded him in death in 1932.  Mr. Phipps died in Columbus in 1936.  He and his wife are interned in the mausoleum at Live Oak Cemetery, Paulding, Ohio.